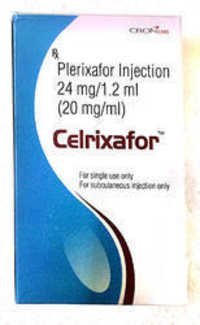 Celrixafor
Price And Quantity
Product Specifications
Control Virus

Chemical Drug
Product Description
Pelrixafor is the Generic version of Mozobil (Pelrixafor)
On December 15, 2008, the U. S. Food and Drug Administration (FDA) approved plerixafor, solution for subcutaneous injection, (Mozobilâ"¢, Genzyme Corp.) for use in combination with granulocyte-colony stimulating factor (G-CSF) to mobilize hematopoietic stem cells to the peripheral blood for collection and subsequent autologous transplantation in patients with non-Hodgkin lymphoma (NHL) and multiple myeloma (MM).
Peripheral blood stem cell mobilization, which is important as a source of hematopoietic stem cells for transplantation, is usually performed using granulocyte colony-stimulating factor (G-CSF), but is ineffective in around 15 to 20% of patients. Combination of G-CSF with Celrixafor (Plerixafor) increases the percentage of persons that respond to the therapy and produce enough stem cells for transplantation

Plerixafor Injection 24mg/1.2ml
Pack :single Injection
Manufacture By: Celon Labs India.
Dosing
The recommended dose of Celrixafor (Plerixafor) is 0.24 mg/kg body weight by subcutaneous (SC) injection. Use the patient's actual body weight to calculate the volume of Celrixafor (Plerixafor) to be administered. Each vial delivers 1.2 mL of 20 mg/mL solution, and the volume to be administered to patients should be calculated from the following equation:
0.012 x patient's actual body weight (in kg) = volume to be administered (in mL)
Based on increasing exposure with increasing body weight, the Celrixafor (Plerixafor) dose should not exceed 40 mg/day.
Administration
Administer Celrixafor (Plerixafor) approximately 11 hours earlier to initiation of each apheresis session for up to 4 successive days. Anaphylactic shock and serious hypersensitivity reactions, some of which have been life-threatening, have occurred in patients receiving Celrixafor (Plerixafor) Observe patients for signs and symptoms of hypersensitivity during and after Celrixafor (Plerixafor) administration for at least 30 minutes and until clinically stable. Only administer Celrixafor (Plerixafor) when personnel and therapies are immediately available for the treatment of anaphylaxis and other hypersensitivity reactions.
Recommended Concomitant Medications
Administer daily morning doses of G-CSF (10 micrograms/kg) for 4 days prior to the first evening dose of Celrixafor (Plerixafor) and on each day prior to apheresis.
What are the possible side effects of Celrixafor (Plerixafor) ?
Get emergency medical help if you have any of these signs of an allergic reaction:
hives; difficulty breathing; swelling of your face, lips, tongue, or throat.
Tell your Doctor at once if you have a serious side effect such as:
easy bruising or bleeding, unusual weakness;
feeling like you might pass out; or
Pain in your upper stomach, spreading to your shoulder or back.
Less serious side effects may include:
nausea, vomiting;
diarrhoea, constipation;
dry mouth, numbness in or around your mouth
Trade Information
Cash on Delivery (COD), Cash Advance (CA), Delivery Point (DP), Western Union

Asia, Australia, Central America, North America, South America, Eastern Europe, Western Europe, Middle East, Africa